Remedial massage reduces pain, improves function and gives relief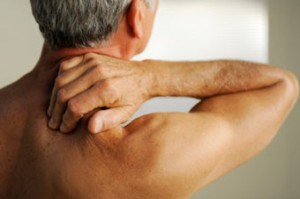 Injury of the muscle, joints or bone (thereby affecting the muscle) can happen with aging, illness or due to use and injury. Your original bio-mechanical dysfunction is analysed and a number of different techniques are applied to help the muscle to release, and to stimulate blood flow. Relaxed muscle improves joint mobility. Remedial massage treats muscle pain, arthritis, frozen shoulder, headaches, sciatica, pain in feet and hands, neck and back pain and other soft tissue injuries. After any joint surgery (hip, knee, ankle, shoulder, elbow or wrist and hand) the change to the joint results in the re-adjustment of muscle and this pain is relieved by massage.
Aromatherapy – to improve skin conditions, reduce stress and anxiety, or purely for pleasure
Full Treatment includes:
Assessment
Massage
Clay face masque
Aromatherapy is the use of essential oils to help bring your body back into balance. As an Aromatherapist I consult with you to work out where your primary imbalance lies. Essential oils are rich in constituents that have direct physiological impact on your body. I identify the oils that your body is crying out for and produce a blend for your specific needs. I then apply the oils in the form of a full body massage. The back of your body is worked first, then you are turned over and a full head massage is then experienced. Your face is then cleansed, massaged with the oils and a French clay face masque is applied. The rest of your body is then massaged ending with the feet. It is glorious to receive.
The massage is rhythmical and firm, not hard. It is the action of the oils that performs the work that is needed. It is best to shower that morning so that your skin is clean which allows the best possible therapeutic response. During the consultation I can prescribe for you a blend that can be added to a base product. I make all my own creams, lotions, serums, gels, cleansers, balms, sprays and healing oils. All the products I use I manufacture from the Highest Quality Products with the least known allergy reactions such as Shea butter, Coconut butter, Aloe, Waxes, Hydrosols, Extracts and Essential Oils. The products are all made with fresh ingredients preserved using Grapeseed and Rosemary extracts which will allow you to store your product in the bathroom cupboard for 12-18 months. Everything that is used is tailor-made to meet your particular imbalance while giving you a pleasurable experience every time you use it.
You will need to allow 1 and ½ hours to see me (15 minutes for consultation with the rest for the massage) and possibly 5-10 minutes after that as sometimes you are so relaxed that the thought of going out into the real world can be a bit of a challenge. I also offer Aromatherapy massage without the facial.
Lymphatic Drainage – reduces oedema and improves mobility
Lymphatic drainage is a type of massage that works in wave-like movements' gently shifting and draining the lymph (interstitial fluid that bathes all cells) through the lymphatic vessels and into the collecting vessels and lymph nodes, for drainage into the venous blood circulation. It is never painful except where there is adhesion of scar tissue and cording that needs to be moved to enable movement and reduce pain.
When your lymphatic system is not working correctly the most obvious sign is usually oedema. Oedema may occur as a result of damage to your lymphatic system from trauma, parasites, and major Surgery (particularly after surgery for Melanoma, Prostate and Breast Cancer) when the lymph nodes and lymph vessels are removed, or when damaged from Radiation Therapy. Radiation is also used to shrink tumours to reduce pain and other symptoms especially in thyroid cancer. Lymphatic drainage can be used before and after surgery, to help speed up your healing and reduce surgical oedema, increase blood flow and reduce scar tissue. During Lymphatic drainage your muscles relax, heart and breathe rate decrease, and you move into a state of relaxation that promotes healing and balance. It stimulates your immune system and relaxes your nervous system. Powder is used instead of oil.
Oncology Massage – to reduce pain and anxiety
There is now extensive clinical evidence to show that massage does not spread cancer and does in fact stimulate and support the immune system. I am a trained oncology masseur. I have experience and training in assisting people who have cancer. Massage can give you great relief from pain and anxiety. It will help you relax and sleep which is vital for recovery. This is a massage that supports you during conventional cancer treatments and after your treatment regime is over. The stress of dealing with your diagnosis and treatment can over load your body further and can hinder your healing. It does not focus on any particular areas of your body nor does it use any techniques that are painful. The relaxation that you experience is a great way to empty your stress pot. In addition it will assist with lymph and blood movement. Chemotherapy and radiation treatments as well as surgery, can affect your skin, bone density and heart. It is essential that if you are having or have had conventional cancer treatments, that you only have massage with a properly trained oncology masseur as understanding the impact of these treatments on the body is important so as not to cause you further problems.
For All Massages
You will be covered at all times with towels apart from the area being worked. You must wear underpants during all treatments. Please wear comfortable clothing that you can put on afterwards that allows you to move freely and that if marked with oils can be washed out. Please shower before your appointment as rubbing dirt into your skin could cause you a reaction. An electric massage table is available for people with limited mobility who are unable to climb up onto a standard table.